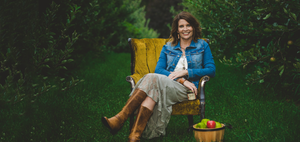 An entrepreneur, wife, and mother, Theresa is the founder and owner of Adams Apple Company, based in Lexington, S.C.
Adams Apple Company is rooted in founder and owner Theresa Adams' Midwest upbringing, during which much of her time was spent in her grandmother's kitchen and on her aunt's family farm.  It was then and there that she developed a taste for scratch-made foods, like apple pie and apple butter! 
Although she later blazed a trail to South Carolina, the love for the taste of nostalgia and the need for meaningful, affordable gift options stirred up those childhood memories of apple butter, which became her annual holiday gift-giving tradition while in college.
Then, as fate would have it, she met and married one dashing Mr. Adams, and her homemade delight took on the title of 'Adams Apple' Butter. The coveted jars were gifted for two decades to friends and family before Theresa made the decision to start Adams Apple Company.
Since being founded in 2014, Theresa has perfected bushels of original recipes for AACo, all of which find apples - be they peeled or pressed - as a core ingredient. So we really are "the real deal, peeled!"
It's been through this authenticity, simplicity, and tenacity that her award-winning products, which are all made in the U.S.A., are said to "taste like memories". And to Theresa, there is no bigger compliment!
Pantry
Butters, Jams, Mixes and More!
Shop Pantry
Home
Shop for hostess gifts, accessories and then some.
Shop Home
Gift Collections
From our "Apple a Day" box to our "Tree-O" box and more, you'll find something for everyone on your list!
Shop Gifts
Featured In and On:
We're Proud to Partner with: